Pre-Loved Uniform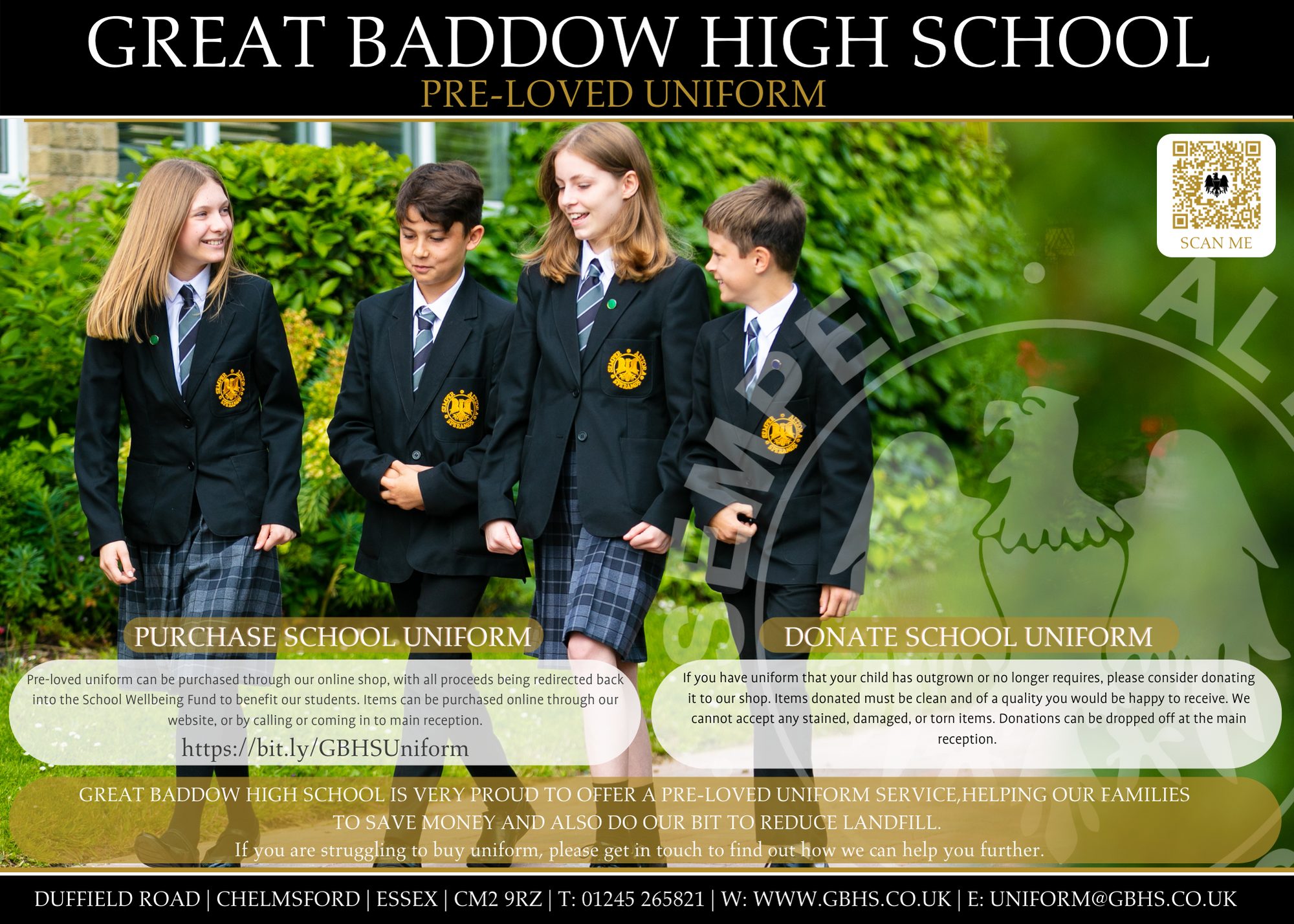 Great Baddow High School have joined Uniformd to provide the opportunity for parents to buy good quality pre-loved uniform at affordable prices. There is an easy to use website which provides a simple and straightforward system to find and buy items you need.
To enable it to work effectively, we rely on you, our parents, to donate your child's outgrown school uniform (we can only accept items that are clean and in good condition), providing a sustainable solution to reduce the volume of old school uniforms ending up in landfill. All funds raised are redirected back into the schools Wellbeing Fund to support our students.
How does it work?
Parents and carers donate outgrown good quality uniform items to Great Baddow High School.
We then list the items on the Uniformd website.
Parents and carers can view and purchase listed items via the Uniformd online school shop.
Great Baddow High School will be notified of the orders and will arrange for parents to collect the items from the school. Please note collections are available term-time only on Tuesdays or Wednesdays
Funds raised will go directly back to the school Wellbeing Fund and used to support our students.
Donating Pre-Loved Uniform
By donating your child's old school uniform, you are directly helping families within our GBHS community as well as reducing the school's collective environmental impact.
Please ensure items are in good condition, clean and preferably ironed!
We cannot accept any items of uniform that are damaged, torn or stained as we will be unable to sell these to students through the UniformD website.
All donations can be dropped off at the main school reception.
Buying Pre-Loved Uniform
CLICK HERE TO VIEW CURRENT ITEMS AVAILABLE
With Uniformd, you have year round access to essential school uniform at a fraction of the price, perfect for replacing items that go missing or get outgrown as your children grow. When you buy on their platform, you are not only saving money but investing back into our school and your child's education.
Once an order has been placed, we will send you an email when your items are ready to collect, along with collection instructions.
Unfortunately we cannot process refunds, however we will endeavour to find an alternative size, if available, for items that do not fit.
For further information about Uniformd visit https://www.uniformd.co.uk/
To purchase new school-branded uniform contact Schoolwear Plus:
Unit 1, The Bringy Centre,
Church Street,
Great Baddow,
Chelmsford,
Essex, CM2 7JW
T: 01245 491170